International
Restaurant
Hospitāļu iela 1, Riga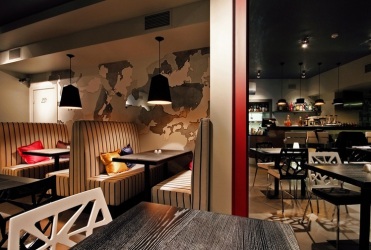 International restaurant is part of the Restau-Rateur Group, which includes International restaurant in Jūrmala, Melnā Bite, Wooden Villa apartments, BakeBerry bakery and SEZONA club-restaurant.
International is a unique restaurant with a philosophy based on the notion that all that is genius can be found in the right details and subtleties.
Contemporary minimalism combined with eccentric accessories and dimmed lights creates an incredibly cosy atmosphere that makes the time spent at the restaurant fly by and become the best part of your day.

By drawing inspiration from the best traditions of international cuisines and employing contemporary cooking techniques, the restaurant's chef has created a conceptual menu with an extensive bouquet of flavours. Experience the manifestation of the restaurant's philosophy as you enjoy luxurious dishes for reasonable prices.
International restaurant is marked by quality service and food and an international taste experience.
Opening hours
Today: 12:00-22:00
phone: 67491212
riga.international.lv
Available
Find similar places »
Comments

Twitter

Reviews

Facebook